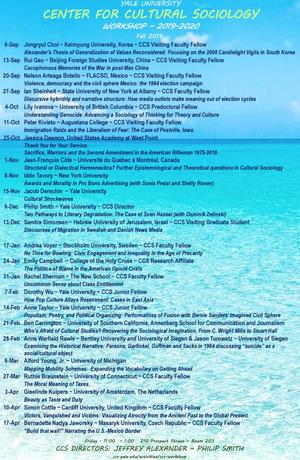 This coming year's CCS Workshop schedule is now available.
Our first meeting will be on Friday, September 6.  Our speaker that day will be Jongryul Choi. Jongryul is here from Keimyung University, Korea as a CCS Visiting Faculty Fellow from September thru January, 2020.
The workshop is held from 11:00 to 1:00.
This year we welcome, along with Jongryul, Visiting Faculty Fellow Nelson Arteaga Botello for the year.  CCS Faculty Fellow and alumna Rui Gao will be here until the end of December as a Visiting Fellow and She Xi remains with us as a Postdoctoral Fellow until mid-February, 2020. Also joining us this year as a Research Affiliate is Emily Campbell.
Visiting graduate students this year are Lily Ivanova, University of British Columbia, Canada, Sandra Simonsen, Hebrew University of Jerusalem, Israel, and Natella Nuralieva, Lomonosov Moscow State University, Russia.
More information about our visiting fellows can be found on our  Visiting Fellows - 2019-2020 webpage.
Looking forward to a fantastic year of workshops!