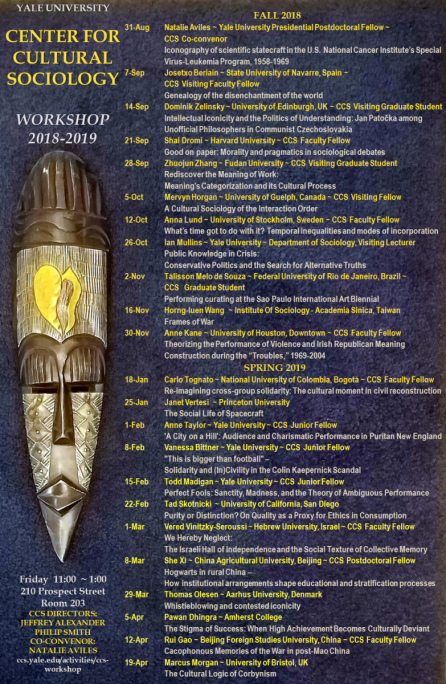 This coming year's CCS Workshop schedule is now available.
Our first meeting will be on August 31.  Our speaker that day will be Natalie Aviles, who will also serve this year as the CCS Workshop Co-convenor with Jeff Alexander. Natalie is here as a Yale University Presidential Postdoctoral Fellow in the Department of Sociology.
Natalie's workshop will be from 11:00 to 1:00. From 1:00 to 1:30, during lunch, we would like participants to be prepared to speak a bit about their summer research work and plans for upcoming research.
This year we welcome Visiting Faculty Fellow Josetxo Beriain in the fall semester, and Visiting Fellow Mervyn Horgan for the academic year.  CCS Faculty Fellow and alumna Rui Gao will join us in December as a Visiting Fellow for 1 year. Previous Visiting Graduate student She Xi will join us in January as a Postdoctoral Fellow for the spring semester.
Visiting graduate students this year are Dominik Zelinsky from the University of Edinburgh, Zhuojun Zhang from Fudan University, Tálisson Melo de Souza from Federal University of Rio de Janeiro, and exhange student Helena Funk from Leipzig University.
More information about our visiting fellows can be found on our Visiting Fellows - 2018-2019 webpage.
Looking forward to a fantastic year of workshops!